Delta Star® Trimline Air Cooled Water Chiller: 1/5HP - 1/2HP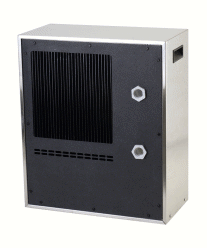 Fresh or Saltwater Use
Compact Design
Quiet Operation
Black ABS Cover
Remote Electronic Temperature Controller
Ozone Friendly Refrigerant (134A)
Applications
Aqua Logic manufactures Trimline chillers for a wide variety of applications. Since "one chiller does not fit all" chillers are designed and build for specific uses. For example Marine Reef Tanks are typically maintained at a constant temperature of 76 - 78°F while bait tanks are cooler, around 50 - 55°F. Research applications requires the chiller to maintain a wide range of temperatures as low as 35°F during some portion of the experiment and as high as 80°F during other times. Each of the scenarios requires the chiller to be manufactured with different parts so they operate at their maximum efficiency.
Our "standard" Trimline units (1/5 - 1/2 hp) are for applications where the temperature to be maintained is in the range of 65 - 80°F such as reef tanks and warm water fish exhibits. The units with option A, cold water cap tubes, are designed for a temperature range of 50 - 65°F for bait fish and temperate fish exhibits. We do not currently manufacture this model for those applications where the unit will need to maintain a very cold temperature, such as lobster tanks or cold water fish exhibits. Our Standard and Option A units are manufactured with a capillary tube of a size and length that allows a fixed amount of refrigerant to enter the titanium coil of the heat exchanger. This amount of refrigerant does not need to change since the water temperature being maintained remains relatively constant. Colder water requires more refrigerant flow and warmer water requires less.
If you have any questions or not sure which chiller is right for you, contact our office for help with your specific application.
Specifications
| Model Number | Horse Power | BTUH Removal Capacity | Volts/Phase | Amps | Flow (gpm) Min/Max | In/Out FIPT(in) | Length(in) | Width(in) | Height(in) | Weight(lbs) |
| --- | --- | --- | --- | --- | --- | --- | --- | --- | --- | --- |
| TLD - 2 | 1/5 | 1,810 | 115 | 3.4 | 6/12 | 3/4" | 17" | 9" | 20 1/2" | 48 lbs. |
| TLD - 3 | 1/4 | 3,080 | 115 | 5.4 | 8/15 | 3/4" | 17" | 9" | 20 1/2" | 55 lbs. |
| TLD - 4 | 1/3 | 4,050 | 115 | 7.2 | 10/20 | 3/4" | 19" | 9" | 21 1/2" | 60 lbs. |
| TLD - 5 | 1/2 | 6,000 | 115 | 9.5 | 12/25 | 1 - 1/2" | 21" | 9" | 23 1/2" | 80 lbs. |
| TLD - 6 | 1/2 | 6,000 | 230 | 4.2 | 12/25 | 1 - 1/2" | 21" | 9" | 23 1/2" | 80 lbs. |
Guidelines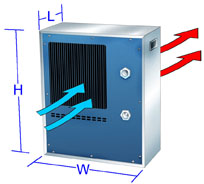 When you install your chiller properly you will get many years of dependable service. One of the most important things to keep in mind when you position your chiller is air flow. Fresh air flow should never be restricted to the condenser (looks like a car radiator) and the hot air discharged must not be restricted when it leaves the unit. As air passes thru condenser, over time dirt and dust may accumulate so it should be placed where you have easy access to it for periodic cleaning.
Chillers should not be placed in a confined space such as a cabinet or closet as temperatures can easily get over 90°F thus reducing the efficiency of the chiller and possible failure. Also if there are open sums heat from the chiller will go right back in the water and could cause your tank to heat up. The moist salty air will also cause corrosion of the condenser and other external parts resulting in failure of the chiller.
Cyclone drop in chillers require water passing by the coil at all times. Correct water flow rates are critical for chillers to operate properly. Refer to the chiller flow rate and pump selection chart to select the best pump for your chiller. Always use an external pump as submersible pumps add heat to the water.
Sizing
Many factors will have an influence when determining the size water chiller required for a particular application. While standard Btu calculations will give you a good starting point for sizing, many environmental and system design parameters must be considered. While sizing charts can be helpful, one chart DOES NOT work for all chiller installations.
Sizing charts for marine reef tanks (under 1500 gallons) are based on "typical" setups using the common life support equipment (LSS), such as pumps, filters, and lighting. However, some tanks have more pumps or higher wattage lighting then what might be considered "normal". This must be considered when looking at a sizing chart. The sizing chart we provide for reef aquariums is based on many years of experience and a typical tank setup.
The sizing charts for aquaculture system, large public aquarium tanks and other fish holding systems are different then that of the marine reef tank. These systems may contain just one large tank or multiple tanks, located indoors in a controlled environment or outdoors in direct sunlight, and every situation in-between. These systems may require less hp per gallon then reef aquariums. Adding insulation and thermal pane viewing windows will decrease the amount hp per gallon required.
For hydroponic applications nutrient solutions need to be cooled. Although the volumes may seen small it is spread out over a large area and there is a tremendous amount of heat input from either grow lights or natural sunlight. This heat input is greatest when plants are young but as they grow and start shading their growing trays the heat input decreases. Due to the numerous variety of set ups these systems can be difficult to size.
We provide a questionnaire that you can fill out and return to us for help in sizing a chiller for your particular application. The more information you provide the better.
As always we have a staff of technicians that are ready to help answer any technical questions you may have.